In Pursuit of the Enigmatic Chameleons, a hushed excitement lingers in the air as the Exo Terra expedition team embarks on a quest, one that will take them deep into the heart of Uganda, the aptly christened "Pearl of Africa." Stretching beyond its shimmering lakes, roaring waterfalls, and sprawling savannas, this nation cradles a secret – an ancient, living tapestry that weaves evolution, geography, and mystery together.
Nestled amid the shadows of the towering mountain ranges that etch the western horizon, forming a formidable natural barrier with the Congo, lies the arena for our expedition. These verdant highlands and hidden valleys beckon with the promise of discovery. This isn't just any quest but a meticulous hunt for the elusive masters of disguise: chameleons.
Chameleons, with their kaleidoscopic array of colors and mesmerizing eyes that seem to dance to a rhythm of their own, have long captured the imagination. Yet, despite their allure, much about these creatures remains cloaked in mystery. What species thrive in Uganda's unique ecological tapestry? How have they evolved and adapted to this equatorial haven's varied terrains and microclimates? These are the questions that fuel the Exo Terra team's journey.
As the team threads their way through moss-covered trails, dense rainforests, and mist-kissed mountain peaks, they are not merely traversing geographical miles. They are journeying through time, delving into an evolutionary story written over millennia. With each step, they document not just the chameleons they encounter but the very fabric of the land they tread upon. From the crispness of the air in the alpine zones to the humidity cloaking the rainforests, climatological data becomes a breadcrumb trail leading to these reptilian wonders.
Yet, it isn't just the atmospheric tales that the team is keen to decipher. The very earth beneath their feet, with its myriad morphological tales, holds clues. How does the rocky outcrop of one region influence the chameleon species that make it their home? Does the lush canopy of a particular forest offer sanctuary to a yet-unknown chameleon species?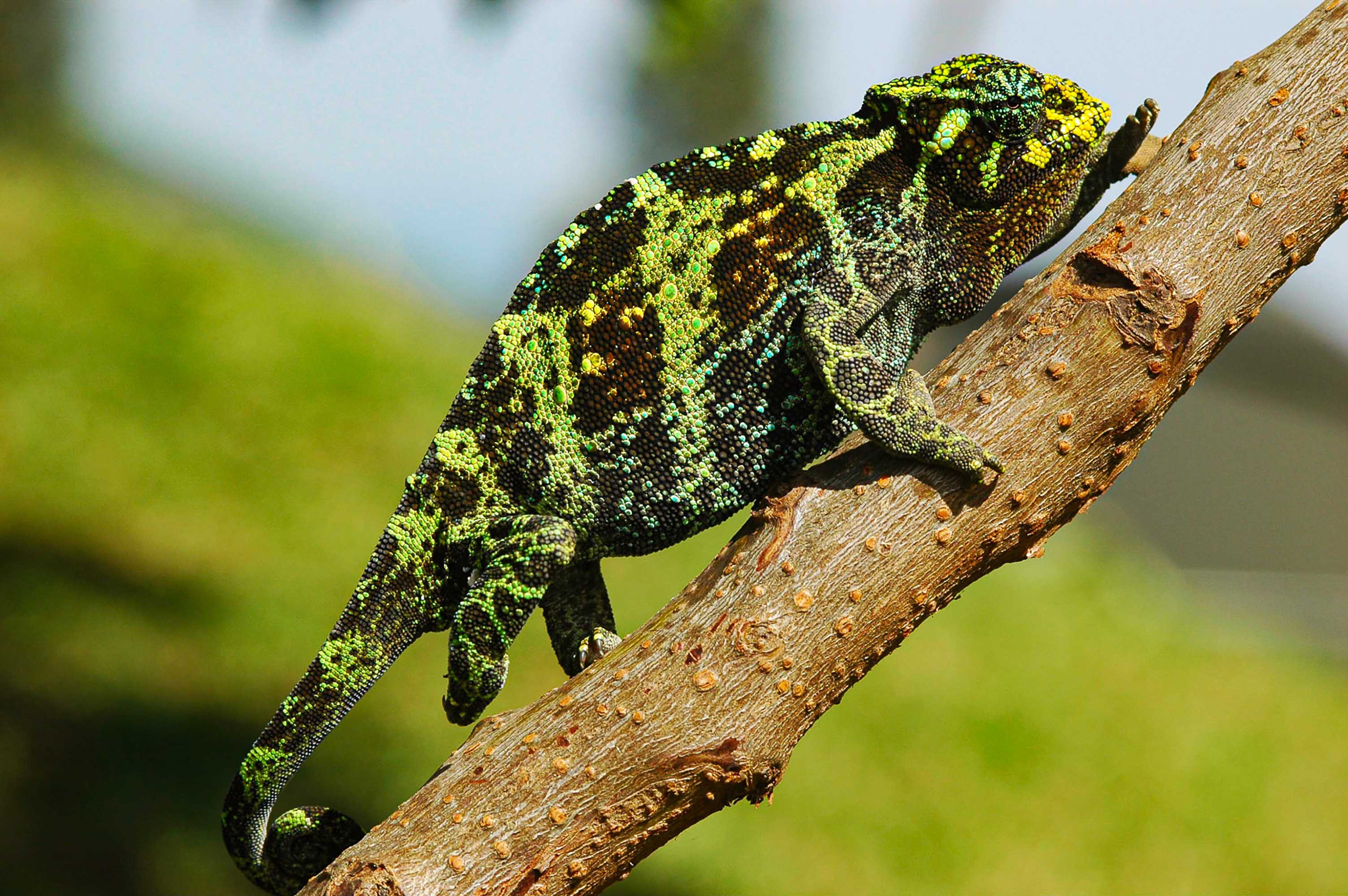 In their diverse hues and forms, the chameleons become gatekeepers to understanding the complex interplay of environment, adaptation, and survival. Each encounter, and each observation adds a piece to the puzzle, weaving together a comprehensive map of chameleon fauna that promises to redefine our understanding of these enigmatic creatures.
The stakes are high. In an era where the clarion calls of conservation grow ever urgent, understanding these creatures becomes not just a matter of academic curiosity but a pressing imperative. What the Exo Terra expedition team seeks to unravel might very well hold the keys to ensuring that the chameleons' dance continues for eons to come.
From our first steps into the heart of Uganda, the Exo Terra team felt the pulsating rhythm of the land, the ancient mountains and the whispered legends of the forest. We're not just observers; we're explorers, each day bringing a new chapter in our ongoing tale. Among the lush canopies and shadowed undergrowth, we've found a world that many only dream of – where chameleons dance their silent ballet of colors and nature reveals its most intimate secrets. We're honored to share this journey with you, inviting you into our story – one of discovery, passion, and a deep connection with the world's wonders
"The Exo Terra expedition team embarks on an evocative journey into Uganda's heart, the "Pearl of Africa", to unravel the mysteries of its chameleon fauna. Traversing the western mountain ranges bordering the Congo, they delve into both the region's climatic nuances and its rich terrains."